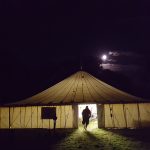 Officers and Boys of the Boys Brigade, you are warmly invited to attend our Annual Battalion Camp at Glynde, near Lewes, East Sussex on the beautiful South Downs.
There will be a full programme of Camp Activites including Special Events for Seniors.
GLYNDE CAMP is the official Battalion Camp
Saturday 24th July 2021 to Friday 30th July 2021
Planning is well underway for our Annual Camp in 2021, which will be on the Cows Wood campsite. Application forms will be available in December from your company captain or from this web site. The cost of "Glynde Camp" is £130.
No applications will be accepted after 1st July 2021.
You can download an Application Form here
Remember deposit of £65.00 to Camp Bursar before the 8th February 2021 and the balance by 7th June 2021 (otherwise the total cost may be increased
If you are unable to attend due to sickness or injury and notify us before 8th June 2021 your payment maybe refunded less a £35.00 administration fee. After that date the retention increases to £70.00. Refunds are at our absolute discretion.
We reserve the right to refuse to accept any application without giving a reason.