What is the "Senior Section"?
The Seniors Section is for young people between the ages of 15 and 18. Throughout their time in the Senior Section, young people take part in the 'Challenge Plus' programme. This gives members the opportunity to take part in projects, earn awards and push their personal boundaries through physical, mental and spiritual development.
It's all about learning and specialising new skills, empowerment, taking responsibility and having fun. The Boys' Brigade provides a safe environment to truly push your boundaries, achieve personal goals, build a network of friends and having adventures every step of the way. Members are given the option to choose their areas of specialty, whether it's sport's officiating, fundraising or DIY.
Every member of the Seniors Section should expect to:
Overcome new challenges
Build integrity
Be heard and have their say
Be respected and valued
Enjoy the entire process and have fun
Develop a personal Christian faith
Uniform
The uniform for the Seniors Section varies depending on the group they belong to. Generally it comes in two forms:
A Royal Blue Polo Shirt with a Navy Blue Sweatshirt, accompanied by black trousers and black shoes
A Royal Blue Boys' Brigade shirt with an official Boys' Brigade tie and belt, accompanied by black trousers and black shoes
Members of the Seniors Section will start out with an armband worn on the right arm to wear any badges they achieve. A second armband worn on the left arm may also be required dependant on progress and achievements throughout their time with the Seniors Section
Meetings
Meetings are held on a weekly basis for 1½ – 2 hours and typically conclude by 9:30pm, however check our companies tab for your nearest company and  more accurate times
Projects
 Projects include "taster" sessions that act as an introduction to a topic and are then followed by a longer project that is designed and led by the young people.
Projects are grouped into 3 programme zones:
Community
Life Skills
Recreation & Leisure
Challenges
Challenges are focussed on activities that could be completed by the group or as an individual. They range from reviewing a local takeaway, to completing expeditions. The challenges are physical as well as mental, allowing for total development of the young people.
The Seniors Section provides young people with the opportunity to further harness their strengths to achieve the following awards, which are a true testament of a their development with the Boys' Brigade.
Presidents Badge
Queen's Badge
Right Armband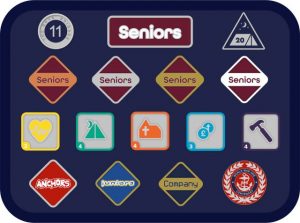 Left Armband